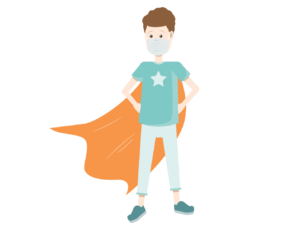 To keep our children and communities safe during the COVID-19 pandemic, it is important to stay informed with updated research and medical insights. 
Here's what we know: Although more common in adults, children can also get the virus that causes COVID-19. Common symptoms may include fever, cough, runny nose, diarrhea, vomiting, loss of smell, or headache. Most COVID-19 infections in children are mild or get better with medical care.
It's important for all of us to help prevent the spread of COVID-19, especially among vulnerable child populations. Children and adults can reduce their risk of exposure by wearing a mask in public, social distancing, and washing hands frequently.