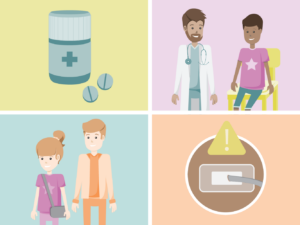 Although rare, complications may occur while living with a VAD, which may include:
Stroke: With all VADs there is a risk of stroke, which is caused by bleeding or a blood clot in your brain. Both may cause injury to your brain. Your care team manages your medicines carefully to prevent strokes, however sometimes strokes may occur.
Bleeding: While on a VAD, you will take blood thinners which may increase your risk of bleeding. When on blood thinners, you are always at risk of bleeding. Nose bleeds, bruising, and bleeding in your stomach may occur.
Infection: The driveline or cannulas are directly connected to the heart and lead outside the body through the skin, making infection a risk. If the device or driveline gets infected, you may need to take antibiotics. You will have frequent dressing changes of your central lines and your driveline to help prevent infection.
Reducing VAD Risks
Although the complications above sound scary, there are many steps you and your care team will take to reduce the possibility of complications. VAD patients will:
Take blood thinners and other medicines to help their heart
Have frequent visits to the doctor to make sure the VAD is working right
Have a caregiver who understands how the pump works
Change the bandages and clean the area where parts of the pump come through the skin