ACTION is here to support you by providing the most up-to-date educational,
evidence-based information for you and your caregivers through your journey as a patient.
Learn more about ACTION and what we do.
ACTION is here to support you by providing the most up-to-date educational, evidence-based information for you and your caregivers through your journey as a patient. Learn more about ACTION and what we do.
ACTION is the Advanced Cardiac Therapies Improving Outcomes Network. We work together to improve critical outcomes for all pediatric and congenital heart failure patients. Our international learning network approach allows us to make critical improvements faster across a collaborative system of patients, families, clinicians, researchers, and industry. As of June 2023, ACTION includes 66 pediatric hospitals in North America, as well as engagement from hospitals in 6 countries.
Learn more about us in this video below.  (Please note this video was created in 2019, and our number of network centers are continually growing.)
Improving Patient Outcomes

Decrease adverse event rates
Prepare patients for transplant

Improve donor organ utilization

Optimize team communication
Advance heart failure medicine therapy
Engage patients to personalize care
via self-reported surveys
Improving Provider Outcomes

Investment in Resources & Capabilities
Share provider experiences & resources
Expand education materials
Data sources & data linkage to decrease burden
Build a collaborative network with key stakeholders
Expand use of registry data to include prospective trials
Our focus is to improve outcomes for all patients with heart failure. Currently, many of our projects are focused on those patients with ventricular assist devices (VADs) and/or those waiting for a transplant.
Stroke Prevention
In the past, approximately 30% of all children suffered from a stroke when supported on a ventricular assist device. In many cases this may be fatal or lead to poor neurological outcomes. However, there was a significant amount of variation in stroke rates between institutions. The differences were thought to be driven by center volume and experience. This suggested that there was an opportunity to identify and implement best practices from those centers that have lower stroke rates, in order to improve the outcomes for children treated at all centers.
ABC's of Stroke Prevention
Knowing that there was a high risk of stroke in children with heart failure that are being treated with VADs, the ACTION team developed the ABC's of Stroke Prevention quality improvement bundle.

ACTION has been working to reduce stroke rates in pediatric VAD patients since 2018. ACTION centers utilized a standardized quality improvement bundle to manage anticoagulation, measure blood pressure, and improve communication, which is referred to as the ABC's of Reducing Stroke. This work has changed outcomes for our ACTION patients and families, and has especially touched the hearts of the Sprague Family!
Watch the Sprague Family story below.
Benefiting Everyone
Our work reducing stroke rates is already benefiting other institutions. Now, most sites within ACTION use the same blood thinner medicine (Bivalirudin) for Berlin Heart patients and measure blood pressure in similar ways. Also, more than 80% of ACTION sites have implemented our stroke prevention rounding checklist.
All of this hard work is paying off. As of January 2020, patient stroke rates decreased by 60%.
ACTION is continuing to implement strategies that focus on decreasing the stroke rate.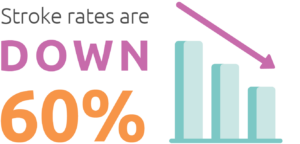 Involvement
Caregivers and families play an important role in ACTION's work. Carolynn and her son Liam, one of our VAD/transplant families, share their experience: "Being the Parent Lead with ACTION is an empowering feeling. Living in the hospital with my son both pre- and post-stroke and transplant allows me to share our experiences with others. The ultimate goal of ACTION is to improve outcomes. Including parents in this collaboration is a key factor in obtaining that goal."
Watch another of our heart transplant patient stories: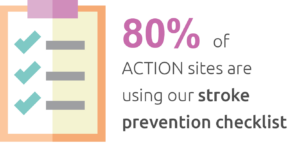 Our Patient-Reported Outcomes
Find out how your Patient-Reported Outcomes help your care teams improve your care.
Our 2020 Highlights Report
Read about our accomplishments and highlights from 2020 (report updated annually).
Our 2020 Data Report
See the data supporting our impact in improving outcomes for pediatric heart failure and VAD patients in 2020.
Our Collaborative
A quick summary of our mission, key values and the goals we are working toward as we move forward.
Our Beginning
Read about the beginnings of ACTION in the first publication released by the network.
Our Structure
Learn more about the committees and initiatives happening across the network.
Learn More
Visit our website at actionlearningnetwork.com to learn more about how ACTION improves critical outcomes for children with heart failure.